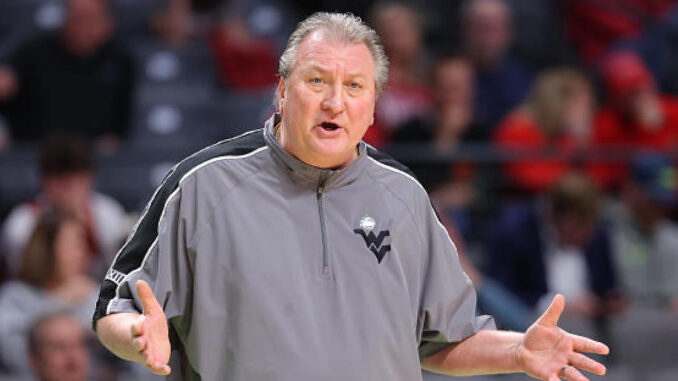 A day after being arrested on suspicion of drunken driving in Pittsburgh, Bob Huggins has resigned as head coach of the West Virginia men's basketball team.
In a statement posted on the team website Saturday night, the 69-year-old Huggins said that he had submitted his letter of resignation to university officials.
"My recent actions do not represent the values of the university or the leadership expected in this role," Huggins wrote. "While I have always tried to represent our University with honor, I have let all of you – and myself – down. I am solely responsible for my conduct and sincerely apologize to the University community – particularly to the student-athletes, coaches and staff in our program.
West Virginia men's basketball coach Bob Huggins reacts during a game against the Maryland Terrapins in the first round of the NCAA Men's Basketball Tournament at Legacy Arena at the BJCC on March 16, 2023, in Birmingham, Alabama.
He added that he would "spend the next few months" focusing on his health and family.
"Coach Huggins informed us of his intent to retire and has submitted his letter of resignation, and we have accepted it in light of recent events," Gordon Lee, school president, and Wren Baker, school athletic director, said in a joint statement. "We support his decision so that he can focus on his health and family."
This also comes after Huggins last month was punished with a three-game suspension and took a pay cut for using a homophobic slur during an interview.
Pittsburgh police said that Huggins was driving a black SUV Friday night. Just before 8:30 p.m. local time, officers saw the vehicle stopped in the middle of the road, blocking traffic. The driver's side door was open and the vehicle had a "flat and shredded tire," police said.
Officers were able to direct Huggins off the road, but when they realized he was having trouble moving the vehicle, he was pulled over and questioned. Standard field sobriety tests were performed, which Huggins failed. He was transported for further testing and charged with driving under the influence.
Huggins has since been released from custody. Police said he would appear at a preliminary hearing, but did not say when.
Huggins was disciplined by the university last month after using multiple slurs in a May 8 interview with Bill Cunningham, a Cincinnati radio host and former basketball coach. In a statement at the time, West Virginia University called Huggins' comments "insensitive, offensive" and said they "do not represent our university values."
On May 10, the university said Huggins' salary would be cut by $1 million, his contract would be a year-to-year one instead of a multi-year agreement, and that he would be suspended for three games, in addition to other penalties. The university also said it had been made "explicitly clear" to Huggins that similar language would result in his termination.
"I have no excuse for the language I used, and I take full responsibility," Huggins said in an apology at the time. "I will abide with the actions outlined by the University and Athletics leadership to learn from this incident. I have had several conversations with colleagues and friends that I deeply respect and admire over the last 24 hours, and I am keenly aware of the pain that I have caused. I meant what I wrote on Monday – I will do better."