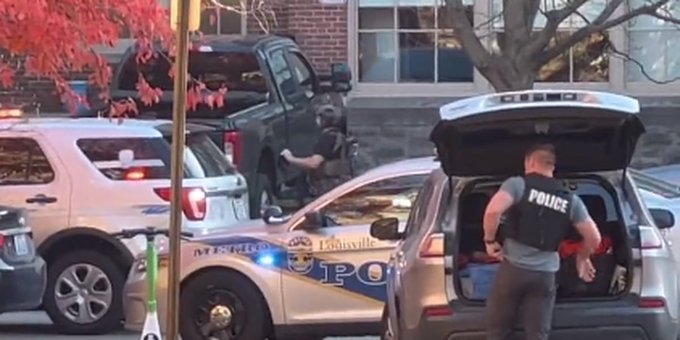 Reports of a possible active shooter at or near manual high school. #Louisville #Kentucky Active Event: Shooting. I'm listening to "Louisville Metro Police 4 – Divisions 4 and 5" using the Scanner Radio app. You can listen to it by going to. LMPD says no active aggressor at DuPont Manual High School. LMPD received a report of an active aggressor at Manual high school this morning. AT THIS TIME, THERE IS NO ACTIVE AGGRESSOR. LMPD is currently inside the school clearing the building and will provide further when available. #LMPD
LMPD says no active aggressor at DuPont Manual High School
Nearly two decades after Manual High School temporarily closed in 2006, Brandi Perez is still reeling from the loss of her school, her friends, her community and, to some extent, herself.
She was in second grade when Denver Public Schools officials closed the school, forcing more than 500 students to find new places to learn. But she remembers how her school was notorious for poor test scores and declining enrollment. She also remembers news articles — The New Yorker called Perez and his colleagues "emblems of failed reform" — asking whether education for mostly poor students of color could be saved.
When Perez was forced to transfer to her new school, Denver South High School, she was plagued by the notion that Manual High students were losers.
Staff members questioned Perez, a former athlete and honors student, about whether she had earned the grades or whether teachers at Manual High had made them up.
"Those are really formative years in your life when you're trying to find your path and who you are," said Perez, who ultimately graduated from Adams City High School in 2008. "It really resulted in me almost losing myself… I was no longer seen as capable."
Now, at 32, Perez looks back on her high school years with a more critical eye: "Weren't we [those people] let down by the system?" — and was one of those who pushed the district to change the system's policies in 2006 Close the issuance of manual advanced diplomas to affected students.
Perez said it's not just about a piece of paper, but about holding school districts accountable for the decision to close schools.
"We were the kids who were told to close schools," she said. "I want people to know that there's more to us than what people say."