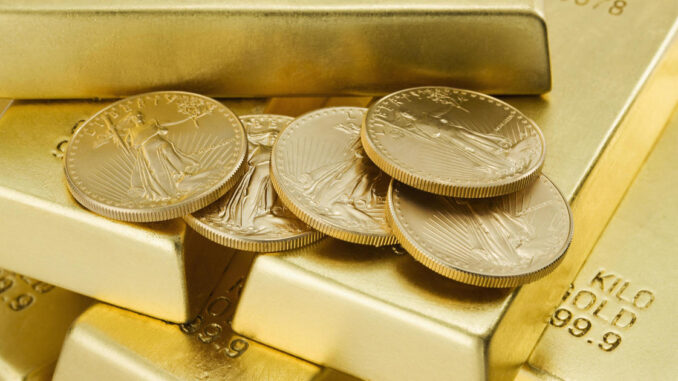 Don't forget: the gold bars or coins you invest in a gold IRA must meet specific IRS requirements.
Jesus Ayala Photography/Getty Images
Once you've decided to invest in gold, it's important to decide exactly how you want to make your investment.
There are ways to own gold without physically owning gold bars or coins — for example, gold ETFs allow you indirect exposure to gold markets via stock in gold mining companies. But physical gold bars and coins are preferred by some investors, since they offer the chance to invest in gold's value directly and can be highly liquid.
However, there are plenty of choices for buying gold bars or coins, and how you buy and store your gold can have implications for your investment over the long term. In this article, we'll explore the different options so you can make the right choice for your portfolio.
Learn more about gold investing today with a free information kit!
How to buy gold bars and coins
Depending on your preferences, there are a number of options for how you can buy gold in the form of bars or coins today.
Common places to buy gold bars and coins include reputable online retailers or in-person sellers in your area. Customer reviews can be a great resource to ensure you're buying from a trustworthy dealer. Always look for details about the gold's weight, purity and amount before you agree to a price.
Before you buy, also make sure you know the current spot price of gold, so you can evaluate whether the price of your sale makes sense within gold's broader price landscape. Depending on your budget, you may also get a better price for buying larger amounts. While a markup is often standard, knowing the current gold price per ounce can help you decide if you're getting a good deal on your purchase.
Buying gold for a gold IRA
If you're buying physical gold to keep in a gold IRA, there are specific requirements from the IRS you must meet for your gold to be IRA-eligible. In general, gold and other commodities are considered "collectibles" by the IRS, making them ineligible for IRA investments. But the IRS does specify certain exceptions that allow you to invest gold, silver and other precious metals in your IRA.
The IRS refers to eligible gold as "highly refined bullion" and requires it to be held in the possession of a bank or IRS-approved custodian. The gold must typically meet specific levels of weight and purity. If you're looking to take advantage of the retirement benefits of a gold IRA, make sure the gold bars or coins you buy are IRA-eligible.
Think a gold IRA could be right for you? Learn more with a free investors kit today.
What to keep in mind when investing in physical gold
Because investing in physical gold bars or coins may be much different than other assets within your portfolio, there are a few additional considerations you should factor in:
Where you'll store it: While some investors may want to keep their gold bars or coins at home, choosing a safe storage facility can be a smart choice. A trustworthy custodian may come with an added price, but can also give you peace of mind that your investment is safe. Plus, if you're investing in a gold IRA, you should always double check that your gold is being held by an approved custodian.
Insurance: Insurance is another way to keep your gold bars or coins safe. Compare different insurance providers for quotes, whether you choose to keep your gold yourself or work with a custodian for storage.
Fees: Other investment types also have fees, but these charges can play a big part in your purchase of physical gold. If you buy your gold online, you may need to pay shipping and processing fees. Even your payment method could add to your price, if the dealer charges fees for credit card payment. Of course, storage and insurance — as well as account setup fees if you work with a gold investment company — can also add to your total.
Unsure of where to start? Speak with an expert today who can help guide you through the process of gold investing.
The bottom line
If you're thinking about a gold investment, buying gold bars or coins can be a good way to own an amount of gold and invest directly in its value. Before you buy, look for a reputable dealer and make sure you're aware of what specifications you're looking for.
For gold IRA investments, you'll also want to make sure your gold meets IRS requirements for "highly refined bullion." Using a gold investment company can be a good way to make sure you're making the right investment choices for your goals. Find out more and get started today with a free investment guide.