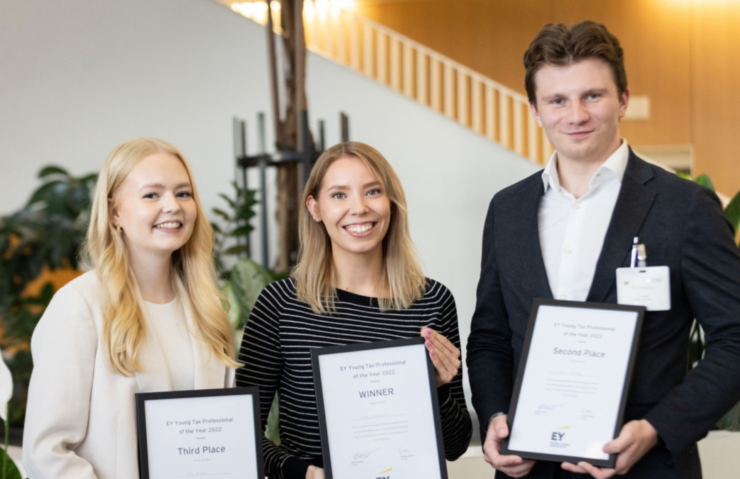 EY's annual Young Tax Professional of the Year competition addresses tax-related challenges. This year, ten students from six different universities across Finland—Helsinki, Turku, Tampere, Oulu, Aalto, and Hanken—participated in the competition.
The competition serves as an excellent opportunity for students to kickstart their careers in expert roles. The top three winners receive a trainee position at EY along with a monetary reward. The winner also gets the chance to represent Finland in EY's international Young Tax Professional of the Year competition.
In this year's competition, Inka Heiskanen, a student at Tampere University studying business law and tax law, secured the first-place position. The second-place went to Kirill Helsing from the University of Helsinki, and Piia Kiuru from the University of Turku claimed the third position.
"I am delighted that I participated in the competition, and I encourage others to join because it's an opportunity to develop oneself both in substance and presentation skills. The case task was interesting, and the atmosphere of the event was encouraging. Overall, it was a great experience!" commented Heiskanen.
"Hearty congratulations to Inka for winning the competition! This year's competition was exceptionally high-caliber, and we were particularly impressed by the winner's presentation skills and the ability to justify solutions to a challenging case task. Heiskanen also demonstrated exemplary teamwork, highlighting the strengths of others and showcasing leadership both in presentation situations and group work," said Tuomas Anttila, a partner at EY.
The competition illustrates that there are alternative ways to apply for expert positions beyond the traditional resume and cover letter. Participation in the competition provides an excellent opportunity to showcase one's expertise and secure a foothold in the consulting industry, as the top three competitors are offered trainee positions at EY in tax services.
Even those who don't make it to the podium can enhance their job prospects through the competition. "At EY, we have several individuals who participated in the competition in previous years but did not reach the podium. However, they convinced us with their skills," added Anttila.
This year's judging panel included experienced tax professionals: Jouni Arpalahti (Director, Corporate Taxes, Wärtsilä Oyj), Satu Roman (Vice President, Global Taxes, Fiskars Group), Vesa-Pekka Nuotio (Legal Counsel, Supreme Administrative Court), Lauri Luukkonen (Head of Taxation, Finanssiala ry), and Raimo Hietala (Partner, EY).