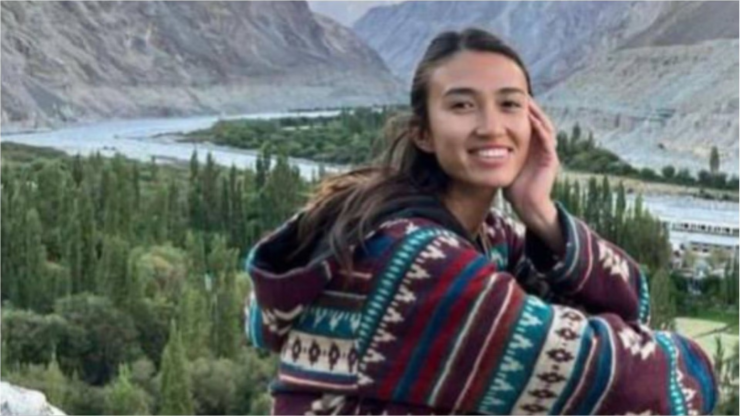 A woman – an attendee of a music festival that flyers said was celebrating "free love" – ​​was abducted by militants on Saturday in a wave of ground attacks from Gaza to Israel, according to information confirmed by The New York Times.
Video posted on Telegram showed a group of men riding away on a motorcycle with 25-year-old Noa Argamani. The video then cuts to another group of militants, holding Ms Aghamani's boyfriend, Avinatan Or, with one hand behind his back.
A family member of Ms. Agamani confirmed to The Times that she and Mr. Ke were featured in the video. Mr Or's brother Moshe also shared a screenshot of the video on Instagram, identifying his brother and Ms Argamani.
About 3,500 people attended the weekend-long event, dubbed the "Psychedelic Music Festival," located near Reim, Israel, three miles from the Gaza border. Israeli security officials said as many as 109 people were believed to have died during the festival.
The festival was evacuated after rockets were fired from Gaza around 6:30 a.m. on Saturday, festival organizer Nimrod Arnin told The Times. Video showed black smoke rising as concertgoers walked to their cars.
Militants soon entered the area, and what had been a peaceful evacuation turned into a scene of panic and panic. Video shows participants fleeing south, through fields and into valleys and wooded areas.
Mr Orr and Ms Agamani had tried to hide from the militants before being taken hostage. According to WhatsApp messages posted on Facebook, Mr Ko shared her location with a friend and begged Israeli soldiers to rescue her.
"Noah and I were hiding here," Or wrote, "and told them there was a gang of 20 people and that they would find someone hiding them and lynch them." He did not reply around 10 a.m., according to the message.
Ravid Ohad, Ms. Agamani's cousin, told The Times that family members were able to track her whereabouts in Gaza around noon on Saturday using the Find My iPhone app, but No further information was received on her whereabouts or her abductors.