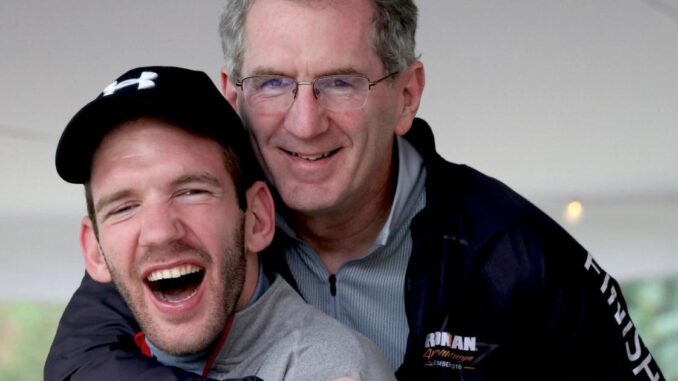 As part of their remarkable journey as father-son triathletes, Jeff and Johnny Agar have been surprised with an official invitation to compete in the prestigious IRONMAN World Championship in Kona, Hawaii.
"CBS Mornings" lead national correspondent David Begnaud, who first introduced the Agar family to the world last November, recently reunited with the dynamic duo to reveal the life-changing surprise. He had help from legendary Hall of Fame quarterback Peyton Manning, one of Johnny's favorite athletes.
"You guys are incredible and a true inspiration," Manning told the Agars in a video message. "On behalf of IRONMAN, it's my honor to share with you that Team Agar has earned an official invite to the 2024 IRONMAN World Championship in Kona, Hawaii. Congratulations and good luck! I'll be rooting for you the whole way."
Their journey to the IRONMAN World Championship has been a long one. Johnny, now 29 years old, was born with cerebral palsy, a muscle disorder that makes it difficult to walk and talk. With the unwavering support of his father, Johnny has embarked on a unique athletic journey. Jeff selflessly pushes, pulls and hauls Johnny through triathlon's as they swim, bike and run — embodying the spirit of teamwork and determination.
"I'm not a fan of swimming, biking or running, which is perfect for triathlon," Jeff told Begnaud last year, laughing. "This probably wouldn't be in the top 100 things I'd select to do. … I'm not doing it because I love it. This is Johnny's dream and I'm giving him the legs and the power to do it."
For the races, they must swim 2.4 miles, bike 112 miles and run 26.2 miles — in under 17 hours.
Their resilience and perseverance led them to complete an IRONMAN race within the designated time frame — on their sixth try. The victory, last September, fueled their ambition to participate in the pinnacle of triathlons: the IRONMAN World Championship in Kona.
Teams like the Agars must receive invitations to compete in the elite event. IRONMAN says the Agars personify "the spirit of the sport."
They now have 16 months to train.
"When I hopefully walk across that finish line, I'm gonna put every, every ounce of energy that I have," Johnny said. "It's going to be really, really special for me."
After all, they have what no other triathlete in the solo sport have: each other.