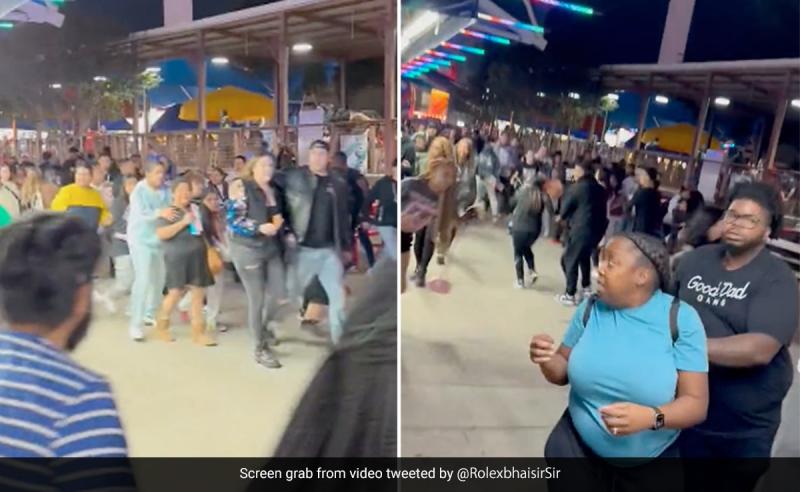 Several videos have surfaced on social media showing people running away in fear as a gunman opened fire at the State Fair of Texas on Saturday. The shooting happened near the food court just before 8 p.m. Saturday, sending hundreds of fairgoers into a state of panic.
The police said the gunman opened fire and ran from the scene before being apprehended a short distance away. Three people were shot, two adult males and one adult female, who suffered non-life-threatening injuries and were listed in stable condition.
Videos shared on social media showed the frantic and chaotic aftermath of the shooting.
Watch The VideoHere:
state fair of texas shooting #dallas #statefair #dallastexas #StatefairofTexas pic.twitter.com/eKPTuqt2v3

— Ángel (@0222tx) October 15, 2023
The shooting at the Texas State Fair of Texas tonight reminds us that gun violence is way too prevalent in our society. Allowing a license to carry individual to carry a gun into a crowded event, like the State Fair, is not a good policy and does not make the event safer. pic.twitter.com/z9B3gqu6LA

— CollinCountyDemocrats (@CollinDems) October 15, 2023
Scariest moment of my life. Active shooter at the State Fair of Texas. 😰 #activeshooter #statefair #texasstatefair #statefairoftexas #shooter pic.twitter.com/vI9FylkqJk

— Lauren (@Lph0711) October 15, 2023
One eye-witness told CBS News, "We were just getting on to the Ferris wheel and we heard screaming. We didn't hear shots and then everyone started running towards the exit. The workers would not tell us what had happened and just told us the fair was closed. There were many police that were heavily armed at the exits and police throughout being very stern, ushering everyone to go home."
def not what u wanna see at the top of the ferris wheel at the texas state fair pic.twitter.com/zx8V7p1frh

— awbs 🪐 (@cans0fsoup) October 15, 2023
Dallas Councilman Adam Bazaldua said the shooting was "sparked from a conflict between two people who knew each other." The police later identified the suspect as 22-year-old Cameron Turner and charged him with three counts of aggravated assault with a deadly weapon.
The State Fair of Texas made a statement Sunday morning that its team is "deeply saddened by the incident last night on the fairgrounds."
It continued to say, "Safety is the number one priority of the State Fair of Texas. We are committed to upholding the level of security required to ensure the State Fair of Texas event is a safe and family-friendly environment for all fairgoers, vendors, and employees. We look forward to welcoming guests today (Sunday, 10/15) starting at 2:00 p.m. We ask that everyone remain "Fair Aware." If you see something that doesn't look right on the fairgrounds, please say something to a uniformed police officer or State Fair Safety Team member."
Notably, The Texas State Fair allows people with valid handgun licenses to carry their weapons "in a concealed manner". The fair is planning to enhance security during the final week of operations.